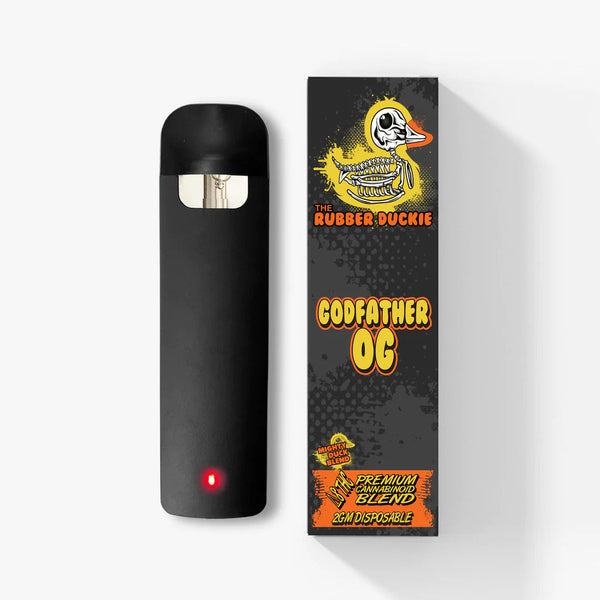 DELTA 8 THC BLENDED DISPOSABLE / 2G / RUBBER DUCKIE / GODFATHER OG
Rubber Duckie Delta 9 THC blended disposables bring the best of all worlds into one potent 2g disposable. We've balanced our D8 with the perfect blend and meticulously crafted terpene profiles to create the ideal mix of cannabinoids. If you're seeking a true entourage effect, look no further.
Godfather OG, also known as "Godfather," "The Don of All OG's," and "OG Godfather," is a potent indica strain made by crossing XXX OG and Alpha OG. The effects of this strain are sedating and relaxing. This strain features a flavor profile that is spicy and kushy, with undertones of subtle grape. Consumers with a low THC tolerance should only smoke Godfather OG in small doses due to its high THC levels, which hover around 28%. This strain won 1st place for Best Indica at the 2013 Cannabis Cup in Los Angeles. 
Delta 8 THC Blend
Indica
2g disposable
3 preheat (low, medium, high)
Rechargeable
Psychotropic Effects